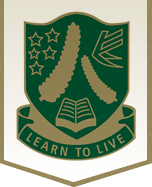 Level 2 ELS - English Language Support
2ELS
Course Description
Teacher in Charge: Mr C. Bangs
Recommended Prior Learning
For students from language backgrounds other than English. No prior study required but students must also enrol in 12EFS.
---
Using a variety of interactive strategies, students will develop grammar and vocabulary and writing, improve reading and listening comprehension and be assisted in coping with the language demands of their other subjects. The work done in this class will contribute towards the achievement of the Literacy Unit Standards in 12EFS.
An interim course designed to help students understand English skills required in mainstream courses and make a smooth transition to a full programme.
---
Faculties:
Assessment Policy & Procedures
---
Pathway
Level 3 EAP - English for Academic Purposes, Level 3 ELS - English Language Support
This course leads to 3EAP and 3ELS in the following year, when students have the opportunity to gain credits for UE Literacy.
Contributions and Equipment/Stationery
1B5 exercise book, 1B3 notebook, clearfile
---
Disclaimer
Lynfield College has procedures and guidelines for the administering of assessments. Click HERE to go to the school website with more information, and links to the appropriate Year Level Assessment Guides.