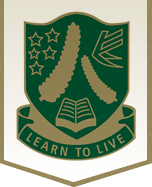 Level 2 Biology
2BIO
Course Description
Teacher in Charge: Ms S. Parker
Recommended Prior Learning
Ideally either:
8 credits from the Year 11SCM course including AS90925 Practical Investigation in a Biological context, and AS90948 Biological ideas relating to Genetic Variation
OR: 8 credits from the Year 11SCB course
OR: 8 credits from the Year 11SCF course including AS90950 micro-organisms.
Or with HoD's approval.
---
LEARNING ACTIVITIES: Devices will be essential for every lesson. A variety of teaching methods will be used as appropriate to the content. Laboratory skills are essential in cell biology; problem solving in genetics; field studies in ecology. A variety of textbooks are used in conjunction with a workbook. Material will be presented in a variety of ways including presentations, videos and computer animations. Homework is a vital part of the course and students can expect to have regular homework set. Expect to partake in at least one field trip.
All fields of health science; medicine, sports science, animal studies, horticulture, forestry,
biotechnology, ecology, wildlife management, agriculture and forensics.
---
Faculties:
Assessment Policy & Procedures
---
Pathway
Level 3 Biology, Level 3 Biology - Extended
Career Pathways
Agricultural/Horticultural Scientist, Paramedic, Animal Care Attendant, Zoologist, Marine Biologist, Microbiologist, Biosecurity Officer, Brewer, Midwife, Dental Assistant, Science Technician, Dental Technician, Crop Farmer/Manager, Forensic Scientist, Environmental Scientist, Food Technologist, Forestry Scientist, Health Care Assistant