2ITH
Level 2 Information Technology - Web
Course Description
Teacher in Charge: Ms A. Ram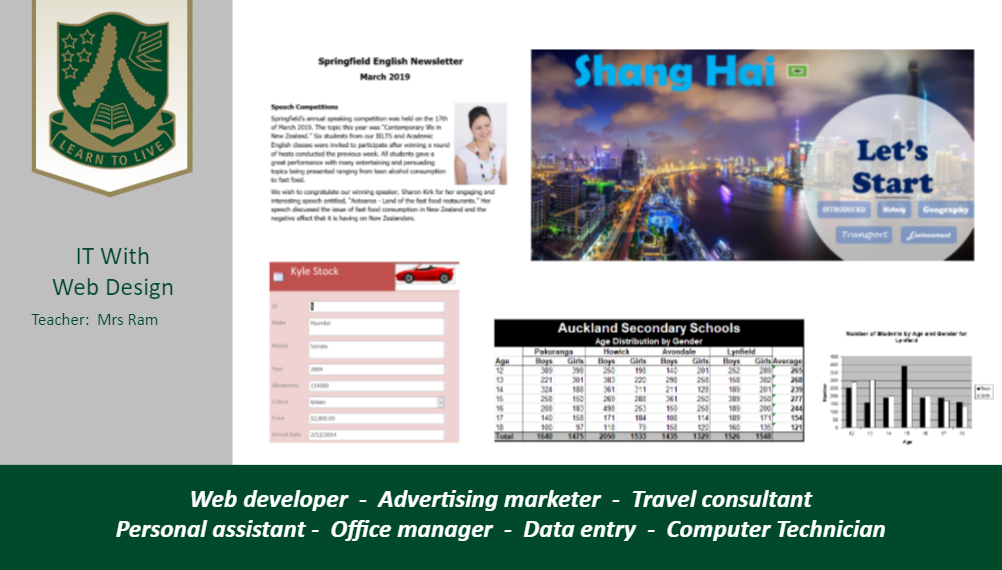 LEARNING ACTIVITIES: Practical skill-based course covering a variety of software applications designed to give students the basic knowledge and skills to carry out common computing tasks. There will be extensions in web page design (two standards), including using dedicated web-authoring software (Dreamweaver). The written demands of this course are not as great as in some others. There is a practical emphasis.
This course opens the way to a wide variety of careers and interests. The 2ITH unit standards provide sector-related credits for creative industries, manufacturing, and technology and services industries. Careers in these industries include Graphic designer, web page developer, advertising and sales manager, travel consultant, personal assistant, information manager, and copywriter.
Recommended Prior Learning
No prior study required.
Pathway
Credit Information
Total Credits Available: 18 credits.
Internally Assessed Credits: 18 credits.

Assessment
Description
Level
Internal or
External
Credits
L1 Literacy Credits
UE Literacy Credits
Numeracy Credits
Level: 2
Internal or External: Internal
Credits: 3
Level 1 Literacy Credits: 0
University Entrance Literacy Credits: 0
Numeracy Credits: 0
Level: 2
Internal or External: Internal
Credits: 3
Level 1 Literacy Credits: 0
University Entrance Literacy Credits: 0
Numeracy Credits: 0
Level: 2
Internal or External: Internal
Credits: 2
Level 1 Literacy Credits: 0
University Entrance Literacy Credits: 0
Numeracy Credits: 0
Use the main features and functions of a web authoring and design tool to create a website

Level: 2
Internal or External: Internal
Credits: 3
Level 1 Literacy Credits: 0
University Entrance Literacy Credits: 0
Numeracy Credits: 0
Use the main features of an HTML editor to create a website

Level: 2
Internal or External: Internal
Credits: 4
Level 1 Literacy Credits: 0
University Entrance Literacy Credits: 0
Numeracy Credits: 0
Use the main features and functions of a database application to create and test a database

Level: 2
Internal or External: Internal
Credits: 3
Level 1 Literacy Credits: 0
University Entrance Literacy Credits: 0
Numeracy Credits: 0
Credit Summary
Total Credits: 18
Total Level 1 Literacy Credits: 0
Total University Entrance Literacy Credits: 0
Total Numeracy Credits: 0