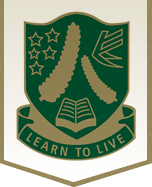 Level 3 German
3GER
Course Description
Teacher in Charge: Ms H. Zimmer
Recommended Prior Learning
At least 5 credits gained internally AND 5 credits gained externally through NCEA Level 2 German. Otherwise approval required from TIC German.


---
Whatever plans you may have for the future, knowledge of German will increase your options. When you learn German you acquire a range of skills which can improve the quality of both your work and personal life.
German is the native language of more than 100 million people and 15.4 million people are currently learning German worldwide. It is the most widely spoken in the European Union and official language in 6 countries. Studying German can be a great way to introduce yourself to the rich culture of Germany, as well as discovering its influence in film and literature and its connections with New Zealand.
The Year 13 German course covers the New Zealand curriculum at Level 8. The communicative approach is used encouraging learners to engage in meaningful communication in German. German is used as much as possible in the learning environment and interactive, learner-centred activities are central to the programme. The activities involve listening, watching, speaking, reading and writing. Students get the opportunity to participate in the Education Perfect World Championships and the Auckland Goethe Speaking Competition.
Main areas of study: Traditional stories, our changing world, environmental issues, sports, festivals.
---
Use the interpersonal skills that you will gain from speaking another language to develop your career as a doctor, counsellor, pilot, lawyer, diplomat, actor, teacher, journalist, or technology designer.
---
Faculties:
Assessment Policy & Procedures
---
Career Pathways
Historian, Hotel/Motel Manager, Flight Attendant, Journalist, Interpreter, Foreign Policy Officer, Importer/Exporter, Immigration Officer, Translator, Secondary School Teacher, Tour Guide, Travel Agent/Adviser