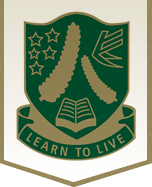 Level 1 Science - Applied
1SCA
Course Description
Teacher in Charge: Mr R. Eyre
Recommended Prior Learning
Completed the Year 9 and 10 Science courses.
---
This course develops the fundamental concepts taught in Year 9 and 10 Science. Students will explore how science affects the world around them, such as the causes of seasons and tides, how different types of micro-organism cause disease, climate change, how to keep themselves and their home warm, and why Auckland is covered in volcanoes.
Students will experience a wide variety of learning opportunities involving literacy and numeracy skills, scientific knowledge and application, thinking skills, problem solving and practical skills. Students will experience a wide variety of achievement opportunities through internally assessed activities, practical work, mini projects, group work, models and puzzles. All credits will be earned through internal assessments.
By the end of Science - Applied, successful students will have the necessary background to continue exploring the world around them and progress to the Level 2 Biology and/or Earth and Space Science courses, or to the Level 1 Science General course. To progress on to these courses, students need to demonstrate scientific ability in a range of assessment formats.
Alternatively, this course could be trialing the new Level One Science standards being developed for full implementation in 2023. These four standards are each worth five credits, and are:
1.1 (Internal) Demonstrate understanding of the application of scientific investigative approaches
1.2 (Internal) Use science reasoning and methods to engage with a local socio-scientific issue
1.3 (External) Demonstrate understanding of how scientific ideas and processes develop and evolve
1.4 (External) Apply science thinking to scientific claims and how they are communicated
More information about these standards is available at https://ncea.education.govt.nz/science/science?view=learning and confirmation which course structure will be followed will be confirmed before the start of 2022. Students are able to opt for 11SCF on the basis of either course structure, and then change their mind later if the final course doesn't meet their learning needs.
---
Faculties:
Assessment Policy & Procedures
---
Pathway
Level 2 Biology, Level 2 Earth and Space Science
Career Pathways
Air Force Airman/Airwoman, Aircraft Maintenance Engineer, Veterinary Nurse, Glazier, Baker, Farmer/Farm Manager, Metal Worker, Carpenter, Farm Assistant, Medical Laboratory Scientist, Electrician, Professional Sportsperson