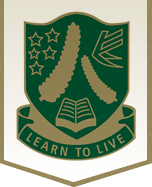 Year 10 English Language Support
10ELS
Course Description
Teacher in Charge: Mr C. Bangs
Recommended Prior Learning
This course is for English Language Learners with a minimum ELLP score of 1 in speaking, listening, reading and writing.
---
This course aims to support students with English language learning and to help them to cope with the language requirements of mainstream classes. The four skills of listening, speaking, reading and writing will be covered using a range of communicative activities. Students will also be assisted with the language skills required in some mainstream subjects.
The students joining this class will usually have taken English Language Support in Year 9 or the English Language Intensive Programme (ELIP).
Entry into this course requires the recommendation of the 9ELS teacher Ms Chooi or the HOD ESOL Mr Bangs.
---
Faculties:
---
Pathway
Level 1 EAP - English for Academic Purposes, Level 1 EFS - English for Further Studies, Level 1 ELS - English Language Support
Next year, this course would lead to 1EAP or 1EFS+1ELS, depending on language learning needs.
Contributions and Equipment/Stationery
1B5 exercise book, clearfile
---